Thanks for checking out Thrive Market! Any new member promotion offered at sign-up should automatically apply to your first order at checkout.
We're giving new annual members a free grocery gift (valued up to $60) with your first order. The gift will apply at checkout to your first pantry order of $25+, no code needed! (Wine & frozen items do not count towards the order minimum)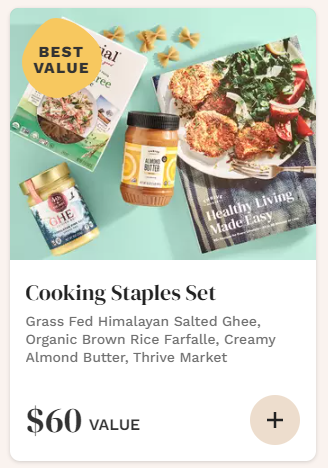 This gift includes some of our best-selling pantry staples and our exclusive Thrive Market cookbook, "Healthy Living Made Easy". With 60+ recipes featuring better-for-you, healthy ingredients, and single-touch "add to cart" QR codes, this cookbook is redefining what healthy cooking at home looks like—all in 30 minutes or less!
If you're having any trouble or are not seeing the promotion you expected, feel free to chat with us by clicking the green "Chat" button at the bottom right of this page.