May 15, 2019: Purely Elizabeth Voluntarily Recalls Certain Lots of Coconut Cashew Grain Free Granola (8 oz)
Dear Valued Members – One of our suppliers has announced a product recall as described below. Our sincerest apologies for any inconvenience this may have caused. Please note that the supplier's recall was broader than the products listed here, however, we are only noting the affected recalled product that was sold on Thrive Market.
Recall Date: May 15, 2019
Product Recall: Coconut Cashew Grain Free Granola (8 oz)
Product Picture: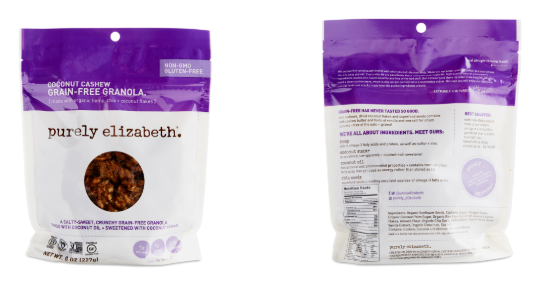 Reason for Recall: Purely Elizabeth is issuing a voluntary FDA limited recall of their grain-free granola and bar offerings as further detailed below due to a possible contamination with foreign matter.
According to Purely Elizabeth, the issue was discovered as a result of a consumer communication. The recall was implemented in connection with learning that cashews provided by their supplier during a brief time this spring may contain foreign objects including fragments of plastic, rock or glass.
Injuries Reported: No injuries or illnesses have been reported.
How to Identify the Recalled Product:

The best by dates are located on the back or bottom of the Product package.
For more information: For more information, please see Purely Elizabeth's website here: https://purelyelizabeth.com/
What to do with Recalled Product: Consumers should not consume the Product and should immediately destroy the affected Product.
Refund or credit Information/Questions: If you purchased one of the affected items, you should have received an email from us with refund details.
For members who purchased the Coconut Cashew Grain-Free Granola 8oz, we are offering a refund. To request a refund, please do the following:
Send an email here

Subject line:

Recall Purely Elizabeth Coconut

In the body of the email, please include:

email account associated with your Thrive Market account;

the item you purchased (Purely Elizabeth Coconut Cashew Grain-Free Granola);

number of units you purchased; and

a picture(s) of the best by date of 10/19/2019 on the Product clearly visible.

The best by dates are located on the back or bottom

of the Product package.
Once we receive your email with the information, you will receive a full refund for the purchase price of the Product(s) to be posted to your account's payment method within 5-7 days
For immediate assistance, please reach out via live chat with your account details, the purchased product, lot code or best buy date, and the date on which the product was purchased. Consumers with additional questions about the recall can email support@purelyelizabeth.com.