There are different steps you can take to find the correct skincare product for your skin! We offer a variety of brands to accommodate as many different skin types as possible.
First, let's identify your skin type. On a typical day, which best describes your skin?
Minimal/no oil, flakiness, or redness (You likely have a "Normal" skin type)
Flaky or tight (You likely have a "Dry" skin type)
Oily and/or shiny (You likely have an "Oily" skin type)
Shiny T-zone, but otherwise normal (You likely have a "Combination" skin type)
Itchy, inflamed, or painful (You likely have a "Sensitive" skin type)
Once you have determined your skin type, you'll be able to find products just for you! At the top of the homepage, click "Browse" and scroll to the "Beauty" aisle, , then "Skincare" (or click here). On the far left side, you will see a list of different filters such as Shop By Category, Refine By, Skin Type, Concern, & more. Feel free to select more than one filter that fits your needs.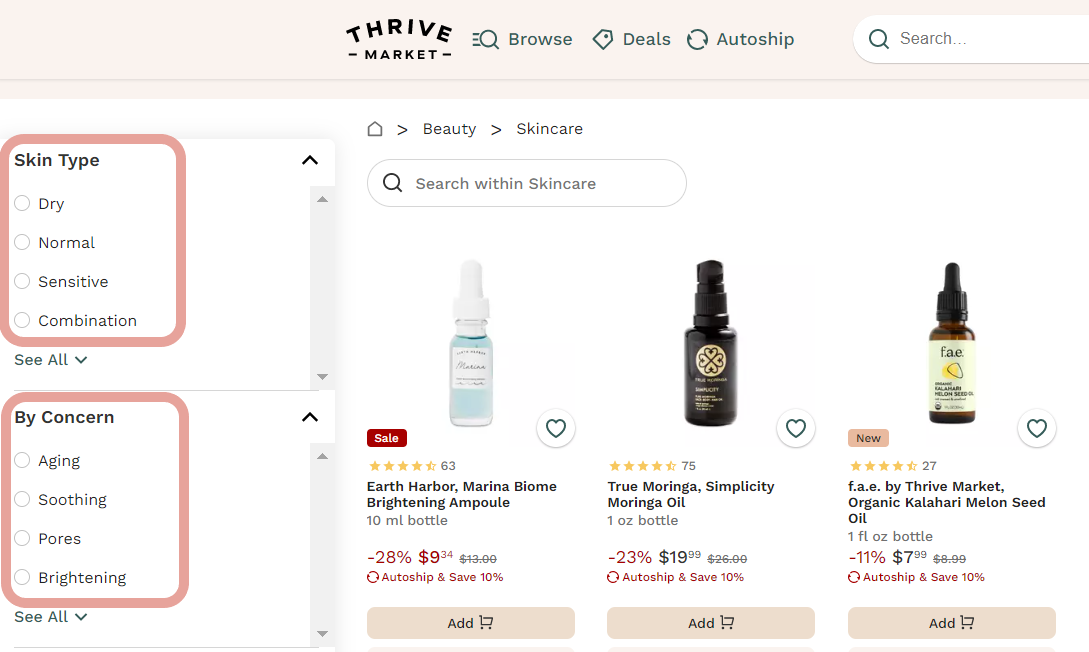 Want some hands-on support? Schedule a free 15-minute clean beauty and skincare consultation with one of our Thrive Market Guides.
How would you like your Thrive Market Guide to get in touch with you? If you prefer phone support, use this link to schedule the best time for your schedule! If you prefer email support, please complete this form and a member of our Thrive Market Guides team will reach out.
P.S. Let us know in the "Description" field any additional details or requests you may have. Some of the things our team loves to help with are finding you staples for a lifestyle change, meal planning, picking out skincare, choosing a case of wine, assisting with creating gift boxes for loved ones. and much more!
Not happy with a product you received? Reach out to our Member Services team by clicking the green "Chat" button at the bottom right of this page, and we'll be happy to further assist you.