Shipping times for your Fresh box may vary based on which warehouse your order is coming from. For the most accurate shipping info, you can check the estimate provided on each Fresh product's page. See below for an example: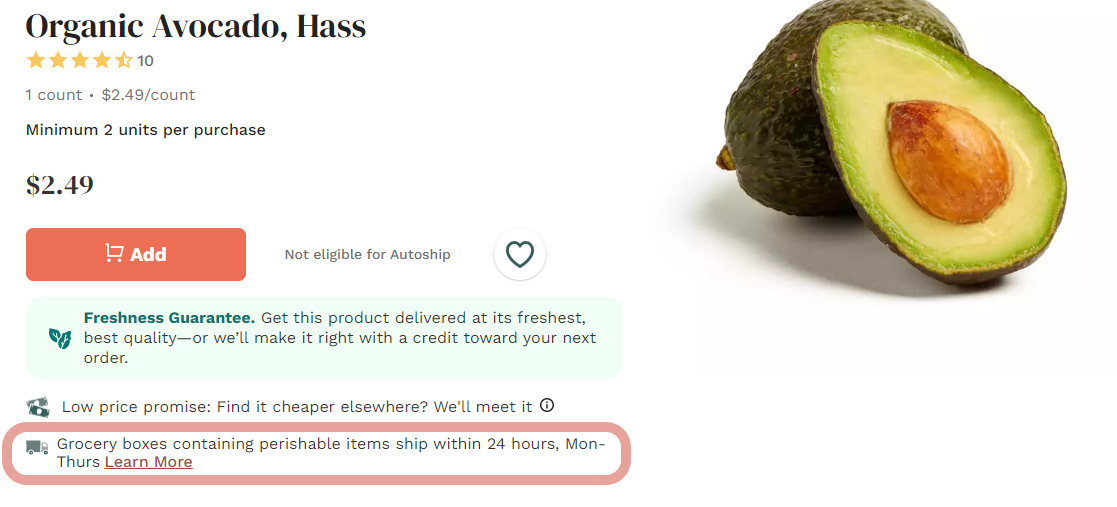 Your order will be shipped with your pantry items and gel cold packs to keep fresh items cool during transit.
Our cold care ice packs are...
Gel-based -- they keep your food extra fresh and cold, and they're environmentally friendly (works as nitrogen-based plant food!)
Reusable -- put them in your freezer for when you need to keep foods and drinks cold on the go.
Recyclable -- cut the packs open, pour the non-toxic gel into the trash (or plants that can handle a nitrogen boost!), and drop the plastic off for recycling.
We are using our usual carriers to deliver fresh orders (OnTrac, FedEx, Lasership). You'll receive tracking information by email as soon as your order ships. Once shipped, your order will arrive within 24-48 hours.
-
We are testing out a Fresh pilot program with a small group of members to make sure we can deliver the very best products in their very best condition to our members. During the pilot, a small group of Thrive Market members will have access to start placing orders for fresh foods (produce, dairy, deli items, etc.) on our website. Our goal is to be live to all members as soon as possible. Keep an eye on our social media for any updates!
Not participating in our Fresh Pilot and trying to track your order? Please click here.