12/28/18: On December 28, 2018, we received notice from Oskri Corporation, our supplier and co-manufacturer of Thrive Market Organic Sunflower Butter (Product), of a voluntary recall due to potential contamination of Listeria monocytogenes. At this time, it is unclear whether our Product has been affected, and we are continuing to investigate further, but out of an abundance of caution, we are recalling all Thrive Market Sunflower Butter purchased on or after June 28, 2018.
This recall has been initiated after product testing conducted by our supplier and co-manufacturer found Listeria monocytogenes in Sunflower Butter results. Consumption of this Product may cause potential health risks. Listeria monocytogenes is an organism which may cause serious and sometimes fatal infections in pregnant women, young children, frail or elderly people, and others with weakened immune systems. Although healthy individuals may suffer only short-term symptoms such as high fever, severe headache, stiffness, nausea, abdominal pain and diarrhea, Listeria infection can cause miscarriages and stillbirths among pregnant women.
The safety of our Members is our highest priority. If you have this Product, please promptly discard it so that it cannot be consumed by you or others.
To identify the Product, it is in plastic 16 oz jars as depicted below: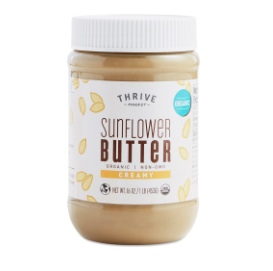 Out of an abundance of caution, we decided to conduct a broader recall of this Product than the supplier's recall announced on January 2, 2019 through the Federal Food & Drug Administration ("FDA") website. See the supplier's FDA recall announcement here.
If you purchased this Product on or after June 28, 2018, we have provided a full refund for the purchase price of the Product(s) that should have posted to your payment method. Please check your payment method for the refund.
If you have any further questions, please contact our Member Services Team via 24/7 live chat.