Dear Valued Members – One of our suppliers has announced a product recall as described below for certain product which was available via Thrive Market. Our sincerest apologies for any inconvenience this may have caused.
Recalled Product: Nature's Path EnviroKidz Gorilla Munch cereal ("Product"). You can identify the Products by the below:


Product Picture: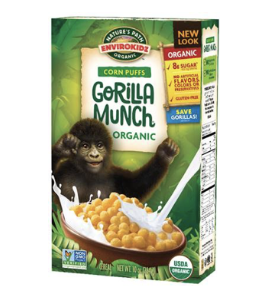 Recall Date: February 15, 2019
Reason for Recall: Nature's Path has voluntarily recalled this product because a specific production run may contain undeclared gluten (wheat and barley). People who have an allergy or severe sensitivity to gluten run the risk of a serious or life-threatening allergic reaction if they consume this Product. This Product could also cause serious autoimmune reactions in people with celiac disease if consumed.
Injuries Reported: None known at this time.
For more information: Please see the recall notice linked here. Please note the other products Nature Path is voluntarily recalling are not sold on Thrive Market at this time.
What to do with Recalled Product: Please do not consume the Product if you have a gluten allergy or sensitivity, and you may dispose of the Product.
Refund Information/Questions: We appreciate your business and apologies for any inconvenience. If you have purchased the recalled Product(s), you will receive a refund for the purchase price of Product(s) to be posted to your account's payment method within 7-10 business days. If you have any further questions, please feel free to contact Nature's Path directly at 1-866-880-7284 (between Monday through Friday 8:00 am to 4:30 pm PST) or by emailing ConsumerServices@naturespath.com.