Dear Valued Members – One of our suppliers has announced a voluntary product market withdrawal as described below. Our sincerest apologies for any inconvenience this may have caused.
Product Picture: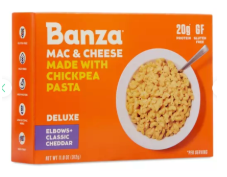 Product Market Withdrawal: Banza's Deluxe Rich & Creamy Cheddar Mac & Cheese Elbows 11 oz; SKU: 857183005632; UPC: 857183005632
Market Withdrawal Date: March 26, 2019
Reason for Market Withdrawal: In order to ensure a positive customer experience, Banza has voluntarily withdrawn this Product due to potential quality issues.
How to Identify the Recalled Product: Product purchased from January 20, 2019 through March 26, 2019; UPC: 857183005632; Lot Codes 182238V3289 and 182228V3289
For more information: You may contact Banza directly at info@banza.com
What to do with Recalled Product: It is recommended that you stop use of and dispose the Product.
Refund Information/Questions: We appreciate your business and apologies for any inconvenience. Customers who purchased the Product will receive a full refund for the purchase price of the Product(s) to be posted to your account's payment method within 7-10 business days.